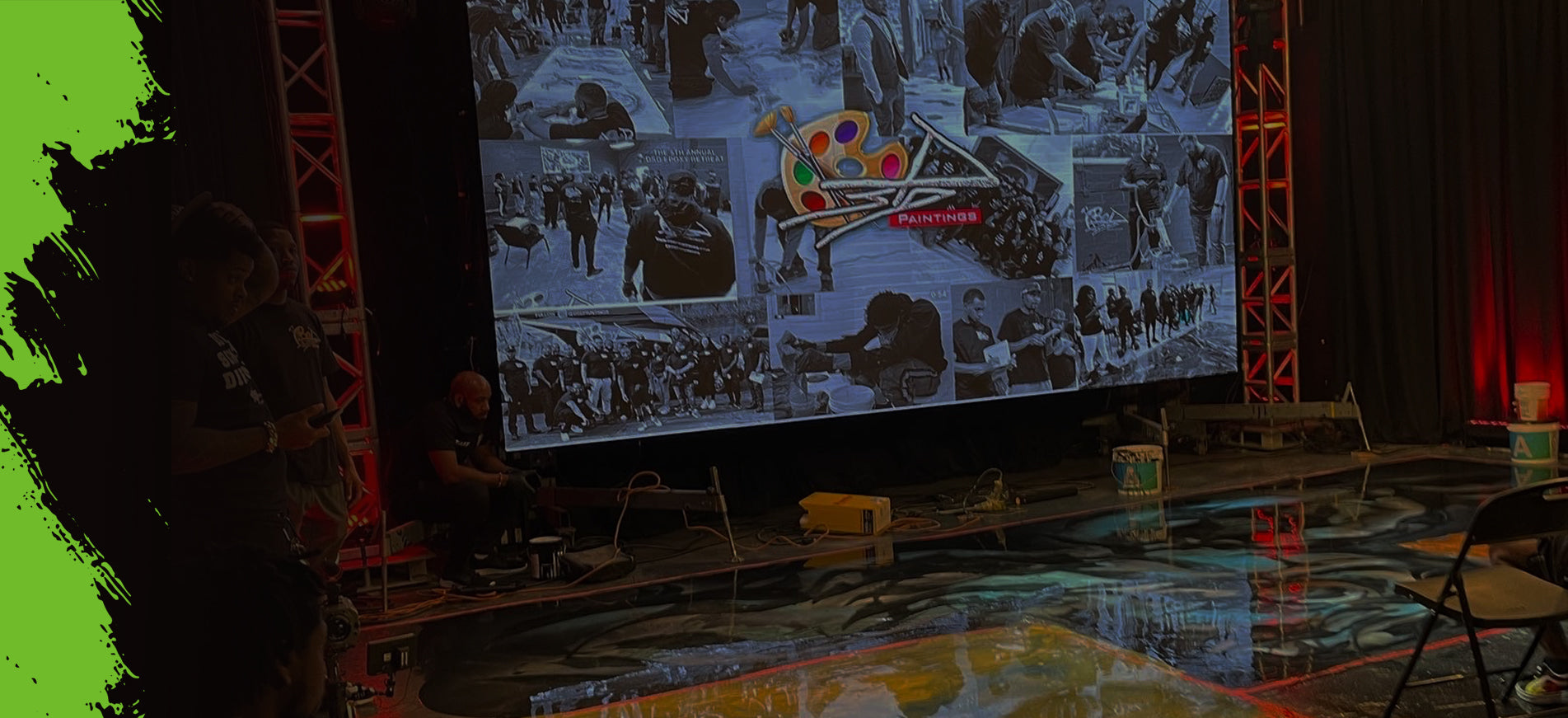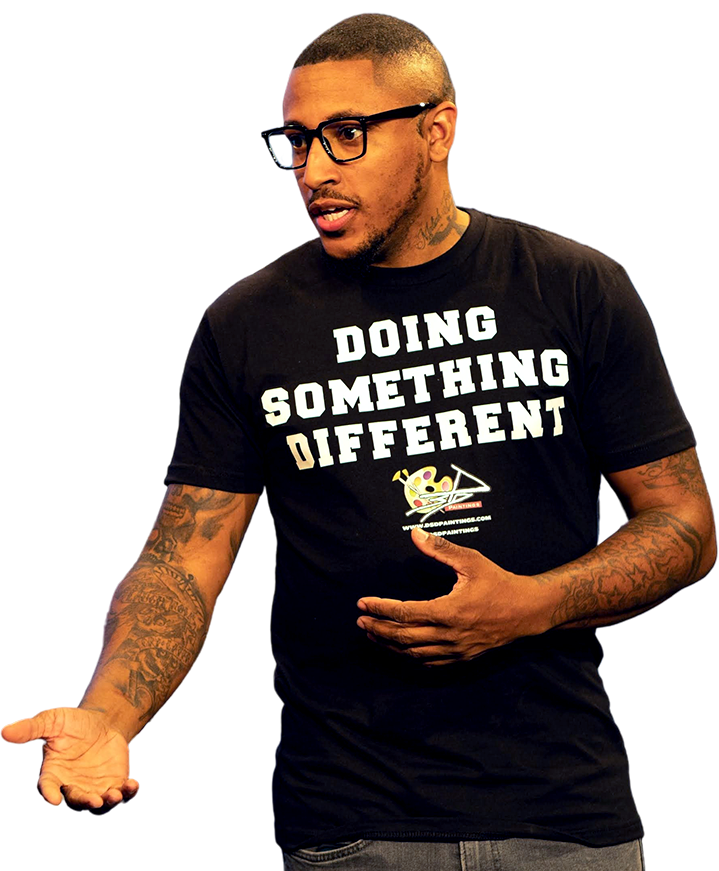 Preparation is key, make sure you take your time and prep everything and then the design is the easiest part.

- Dsd Customer

Watch Review

DSDPaintings

Dsd Customer reviews DSDPaintings

Dsd Customer

5

Everyone has been super Impressed with my work. 100% recommend this. It's a steal for the price.

- Josuer Tiega

Watch Review

DSDPaintings

Josuer Tiega reviews DSDPaintings

Josuer Tiega

5

After meeting with Derwin, it changed my life. I'm blessed to have taken this class.

- Juan Cortez

Watch Review

DSDPaintings

Juan Cortez reviews DSDPaintings

Juan Cortez

5
NO UPFRONT PAYMENT REQUIRED!
Presented by DSD Paintings
Founder & CEO Derwin Scott.
DSD Paintings gives aspiring entrepreneurs the ability to learn a trade in producing beautiful, high-quality interior flooring and countertops at their own leisure and pace. We teach our students how to make high-quality epoxy floors and countertops at an affordable price. This skill gives students the opportunity to sell their services for an additional stream of income or simply as a form of art.
Get The Course
Tremaine Mitchell
08/22/2022
Loved it! Very detailed and easy to grasp.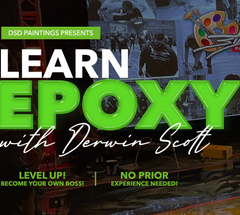 Learning Countertops With DSD
Angelina Jacobs
03/23/2022
This was a very detailed explanation of the process. EVERYTIME I was about to have a question it was answered! This tutorial is definitely beginner-friendly and I cannot wait to do it!!!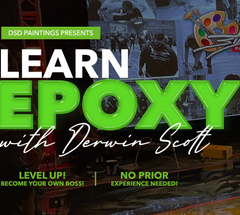 Learning Countertops With DSD
Bre'
06/17/2022
I would highly recommend DSD to anyone who loves art and looking for a new look for their home or business. I hired DSD to complete my floor for my business not knowing exactly what I wanted. I gave him the logo and Not only was he fast and accurate but he created a beautiful floor for my store. Having a Artist design my floor was something I've never experienced but I'm very happy I went with them to do my flooring. Derwin is very gifted and if your thinking about hiring this company I can guarantee you won't be disappointed. Thanks Derwin for all of your beautiful artwork and dedication to completing my store floor.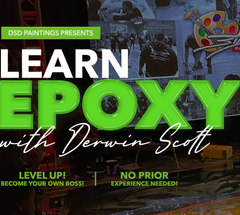 Learning Epoxy Flooring with DSD
Denise W.
05/26/2022
Simple and informative. Quick and simple review and gave game on things I didn't even think about myself. Love the bonus for the bathroom sink needed that.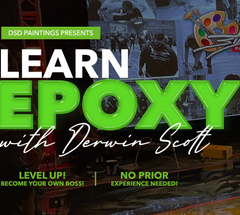 Learning Countertops With DSD
Chean Colclough
06/17/2022
First off Dsd is definitely different and that's why purchased this course and I rock with them. This particular course is basic knowledge which could definitely get you headed in the right direction. It's helpful, but for the price I fill a little more should have been provided. Maybe 1 or 2 more examples of jobs. Add a light color job since the other was dark. And maybe a not so normal job as well. That would total to 4 examples. I think a section on color / additive would be a big plus. even if it's basic, giving a little more information on the colors you offer and how yout pick and pair colors. A section with information on the sparkles and other additives that can be used to get desired results is definitely needed as well. Those couple things or something similar would definitely take this up to 5 Star. Definitely need a little more value and bang for your buck. Thats not to knock the artistic and work quality but for $500 definitely need a lil more.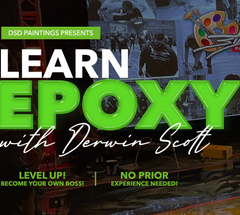 Learning Countertops With DSD
Shawn Pinkney
05/20/2020
DSD truly is giving stepping stones on changing life's and giving an outlet to some to better their financial portfolio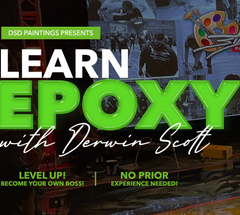 Learning Countertops With DSD
Cory Smith
09/22/21
I can't believe I paid $500 for million dollars worth of game....thank you thank you thank you! The info was concise and to the point. I'll be starting on my mancave bathroom as a tester then branching out to the rest of the house. SQUAAAAAD!!!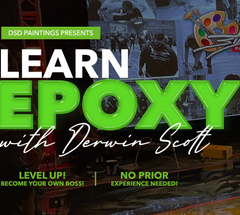 Learning Countertops With DSD
Quinton Walker
10/12/2021
The course is good. I just wanted a little more break down on some of the steps as far as what the chemicals were called in the A and B mixing. And what stores carry the products and tools needed to get all the supplies.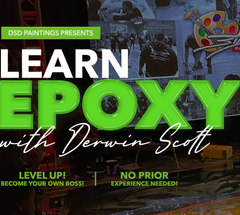 Learning Epoxy Flooring with DSD
Ronald Garcia
02/23/2023
The tutorial was fire. I learned more in those 26 mins than I did with a 40 mins video on youtube. A lot more game dropped in this tutorial, can't wait to start designing. BED SOLD!!!!!!!!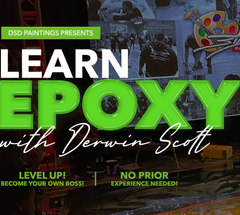 Learning Epoxy Flooring with DSD
Jose Calderon
01/18/2023
This video Breaks everything down in detail, from the supplies to prep down to the very designs!! On top of all that he got you with free game, extra knowledge you ain't know you was gonna need, till you watch this full course💯 Up next The flooring course, we going all in!!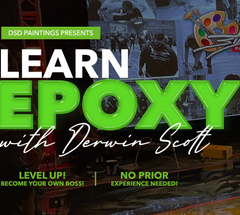 Learning Countertops With DSD
Xavier Howard
04/26/2023
Quick and simple review and gave game on things I didn't even think about myself. Love the bonus for the bathroom sink needed that.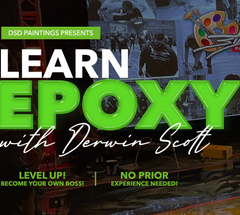 Learning Countertops With DSD
Taron Hayens
11/26/2022
I was honestly so excited once I purchased I completely bypassed the whole course to the bonus with no understanding or disclaimer I would not be able to go backwards. If you could please unlock for me to actually learn the countertop portion I'd really appreciate it thank you. Feel like such a fool for my impatience!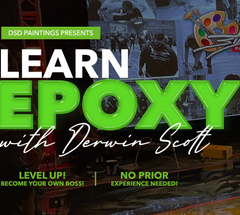 Learning Countertops With DSD
Rodney Ruiz
02/05/2022
MANN, DSD IS THE MAN AN MASTER AT HIS CRAFT, I AM NOW GOING TO ORDER MY SUPPLYS FROM HIS WEBSITE TO START MY JOURNEY IN THIS TRADE THANK YOU FOR BLESSING ME WITH A SKILL TO HELP ME PROVIDE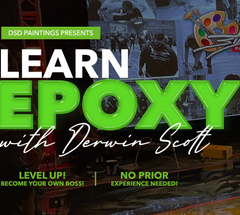 Learning Countertops With DSD
Karon London
02/06/2022
Doing Something Different - there's so much light within these very words. It's spreading like a humble wild fire!! The video is straight to the point, with open gems if you really pay attention. I was blessed to have won the tutorial, now I'm fina mount up! I gotta be a part of the Squad! - Karon out of Dallas, TX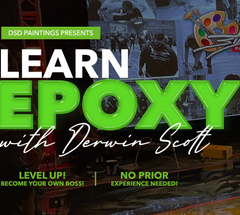 Learning Countertops With DSD
Adrian Valencia
01/31/2022
I've been around the coatings business for five years. All I can say is thank you D for taking the time to not only respond always to my questions but also the way the designs are made by hand! This course put me on something special! Taking my coating game to the next level! Will definitely be throwing down some heat all this year! It all starts with doing something different!! #bedsold #letsgoo @oofs_concrete_coatings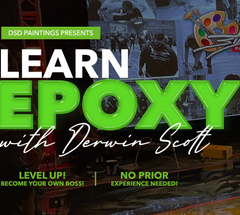 Learning Countertops With DSD
Dawn Green
04/11/2022
If you are currently doing Epoxy countertops/floors or are looking to start… you have to take this course! The design technique that he shows in the course is next level, but at the same time, easy enough for anyone to do and create amazing Art!!! The DSD product looks very rich and easy to work with … especially if y'all see the design technique!! It's NOT the typical technique that I've seen out there… we'll worth the investment! M I am too excited to have all of the pro tips and to be doing something different!!! I'm about to order my product…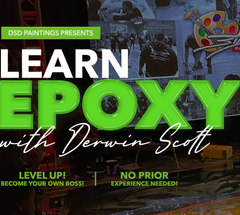 Learning Epoxy Flooring with DSD
Kim Carrington
06/17/2022
LOooooooooVE it! All the details are stated--proper temperature in work area, why to choose the base coat vs the epoxy as a base and the different drying times, why NOT to use pigment vs the color pod, etc. Great!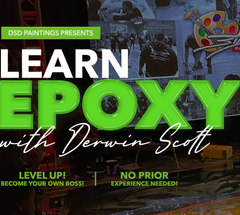 Learning Epoxy Flooring with DSD
Artist Lifestyle
04/10/2022
Dope experience this course is very informative . Great hands on skill set. On point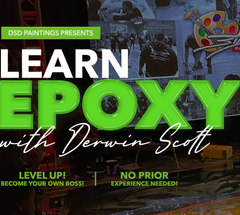 Learning Epoxy Flooring with DSD
David Beck
02/27/2022
Man when I tell you step by step instructions, and the attention to detail . You can't go wrong Thanks DSD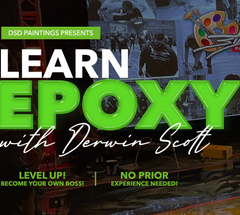 Learning Countertops With DSD
Dequan Daney
03/14/2022
Ayy D, this is a blessing man you definitely did your thing and i can speak for all who taking the time and effort to learn and say we for sure appreciate this. Its only up from here! its time to apply pressure bro. #DSD #MyBedIsSold #Squad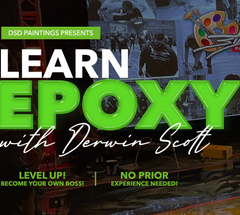 Learning Countertops With DSD
Zachary Connolly
06/10/2023
Greetings, I am enjoying the training a ton. One thing I like is it is so well presented, not robotic with the speech and he is able to so naturally demonstrate well talking us through it.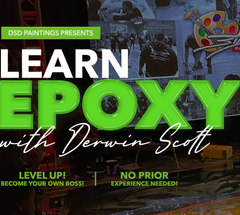 Learning Epoxy Flooring with DSD
Kadarion Richardson
03/28,/2022
This tutorial was being great form showing how to do it start to finish. Then showing us how to fix the mistakes we might have made. Great all around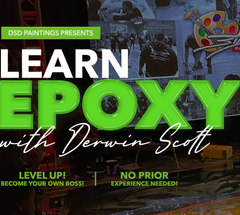 Learning Epoxy Flooring with DSD
Nicholas Garcia
01/04/2022
I loved how everything was broken down literally step by step everything was to the point and you understood it all dsd gave me that leg up that i needed they also gave me the game the skill and the knowledge now i gotta put in the work highly recommend you get one of his courses if you want to DO SOMETHING DIFFERENT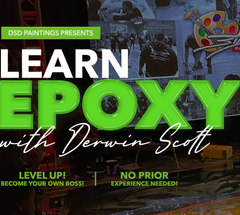 Learning Epoxy Flooring with DSD
Latoya Heath
02/23/2023
This class was very informative! So simple and straightforward. I absolutely loved everything about it and can't wait to do a project.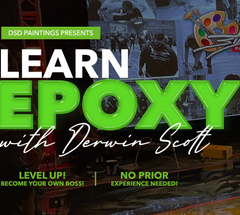 Learning Countertops With DSD
James McDowell
01/29/2022
Great details in explaining the process. Very easy to follow, and breaks down mistakes to avoid! GREAT JOB!!!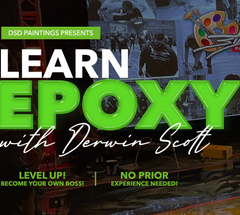 Learning Countertops With DSD